EIP-HDT30 HD Widescreen Projector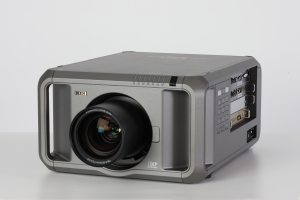 Summary
Get the film-like imaging of DLP® technology with the new BrilliantColor™ color reproduction in a large venue high definition projector.
Key Features
Full HD 1080p resolution. 8,000 Lumens bright. 7,500:1 contrast ratio.
Single Chip DLP® imaging technology delivers a "seamless" image.
Upscales 720p. Supports other widescreen and standard aspect ratios.
Included 6-segment dual color wheel set can be installed for rich color.
2 fixed inputs include a full suite of standard professional connections.
2 module bays permit customization. Built-in LAN Control Port.
Optional modules include Dual (HD/SD) SDI and HD Wireless Receiver
Power Zoom and Focus. Optional Wideangle and Telephoto lenses.
Both horizontal & vertical power lens shift. Built-in Mechanical shutter
Centered lens and one-way airflow simplify installation. Quick lens installation.
Dual Lamp System provides redundancy and permits 4 brightness levels.
Illuminated control panel & wireless/wired remote. RS-232 & Network control.
Power Management, Keylock Security, and Custom Warmup Screen options.
3 year/6000 hrs. (whichever comes first) projector warranty.
Included Accessories: Quick Setup Guide, Owner's Manual on CD ROM. 6.0 ft. (1.8 M) AC Power Cord . Lens Cover. VGA-type Computer Input Cable (Dsub 15). Wireless/wired Remote & 2 x AA batteries. Wired Remote Cable. Real Color Manager Pro Software on CD-ROM. Lens Aperture Cover. Cable Cover x 1. Cable Cover Support x 1. Cable Cover Ties x 3. Rich Color 6-Segment Color Wheels x 2. Network Software on CD-ROM.
Optional Accessories: Wideangle, Standard and Telephoto Lenses. Replacement Lamps. Replacement Filter Cartridge. ATA-Style Shipping Case with Wheels and Telescoping Handle. Dual SDI Module (only HD-SDI can be used). DVI-D & Dsub15 Module. 5BNC & S-Video Module. Ceiling Mount. Ceiling Post and Plate.
Specifications Overview
(Right click a link and choose "Save ..." to download a file)
()
()
Display Technology
1 chip DLP®
Brightness (ANSI)
8,000 lumens
Native Resolution
1080p (1920x1080)
Max. Computer Input
WUXGA
Max. Video Input
1080p
Contrast Ratio
7500:1
Panel Size
0.95"
Lens Type (Throw:Width)
Supplied without lens
Power Lens Shift
U/D 55%; L/R 25%
Keystone Correction
U/D 30º; L/R 30º
Inputs
Dsub15 x 1; DVI-D (w/ HDCP) x 1; HDMI® x 1; BNC x 5; S-Video x 1;
Empty module bay x 2
Outputs
Dsub15 x 1
Sound System
-
Network Control
Wired LAN monitor & control
Warranty
3 year/6000 hrs. (whichever comes first) projector warranty.
Lamp Life
Up to 3,000 hours per lamp
Lamp Part #
610 350 6814 x 2
Fan Noise
As low as 35 dBa
Air Filter
Cartridge Filter (35,000 hours)
Maximum Pitch
Up to 360º
Weight
43.2 lb (19.6 kg)
Ceiling Mount Part #
0173-5016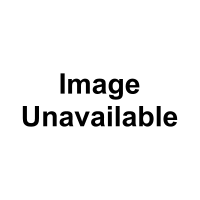 Shipping Case "Tilt & Roll" ( hard ATA type ) Dim: 32" x 20" x 16" Net Weight: 43 lbs.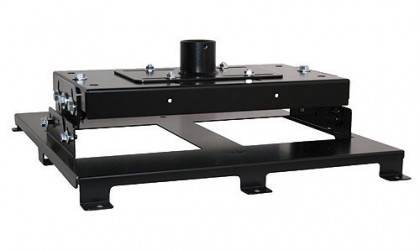 Heavy Duty Custom Ceiling Projector Mount