LC-WGC500 LCD Projector
LC-WGC500L (no lens) LCD Projector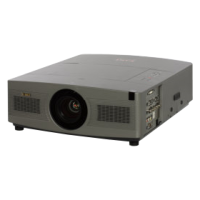 Key Features
5000 ANSI Lumens bright, at 90%+ uniformity and a 3000:1 contrast ratio.
3 panel LCD imaging for rich color saturated computer and video projection.
Native 1280x800 resolution. Compatible up to 1080p and WUXGA/XGA.
Image resizing via video scaling and smart data compression / expansion.
Lamp changer & cartridge air filter for mission critical / hard-to-reach installs.
Includes most professional input configurations, including 5 BNC and HDMI.
Accepts analog and digital computer, and analog & digital video (HDCP) input.
Power zoom & focus. V & H Power lens shift. Digital keystone correction.
Optional Wideangle and Telephoto lenses. Instant Lens Change System.
Converts Interlace to Progressive scan. 3-2 (and 2-2) pulldown support.
Variable Power Management Option. Optional Local or Remote Keylock.
Custom Warmup Screen Image Option. Built-in Color Auto Picture Control.
Wireless/wired remote w/mouse and laser pointer. -50%~+700% digital zoom.
3 Year* Projector Warranty
Outstanding Features:
Lamp changer system automatically switches to a fresh lamp.
Cartridge air filter system automatically advances to a fresh filter.
Top-accessed lamp and filter make maintenance easy.
3W stereo amplifier and 2 x 3.5" speakers
Mechanical shutter for true black screen.
Picture in Picture and Picture by Picture display options.
Physically centered lens. Projector supports pitch through 360°.
Power Lens shift Up 50%, Left or Right 15%.
Push-button lens replacement (no dismantling required).
Included Accessories: Quick Start Guide. Owner's Manual on CD-ROM. AC Power Cord 10' (3m) Type 3 Detachable. Lens Cover. VGA-type
(Dsub15~Dsub15) Computer Input Cable. Wireless/wired Remote with Mouse Control and Laser Pointer & 2 x AAA batteries.
USB Cable for Computer Mouse control.
Optional Accessories: Replacement Lamp. ATA-Style Shipping Case with Wheels and Telescoping Handle. A Range of Wideangle and
Telephoto Lenses. Ceiling Mount. Ceiling Post & Plate. PjNet Network Interface.
Specifications Overview
(Right click a link and choose "Save ..." to download a file)
(Download a detailed black & white pdf specification sheet)
()
| | |
| --- | --- |
| Display Technology | 3 LCD |
| Brightness (ANSI) | up to 5,000 Lumens |
| Native Resolution | WXGA (1280x800) |
| Max. Computer Input | WUXGA |
| Max. Video Input | 1080p |
| Contrast Ratio | 3000:1 |
| Panel Size | 0.95in (24mm) inorganic |
| Lens Type (Throw:Width) | 1:61-2.1:1 |
| Power Lens Shift | up to 50% Up or Down; up-to 15% Left or Right |
| Keystone Correction | Digital up-to 40° Up or Down; up-tp 20° Left or Right |
| Inputs | DSub15 x 1;HDMI x 1;BNC x 5 or BNC x 3 or BNCx1; RCA x 1; S-Video x 1; Stereo: MiniStereo x 1; RCA x 2 |
| Outputs | Dsub15 x 1;Variable, Stereo: MiniStereo x 1 |
| Sound System | Stereo: 3 Watt; 2 x 3.5in (5 x 9cm) x 2 (Stereo) |
| Network Control | Wired LAN monitor & control & system management with optional module. |
| Warranty | 3 years |
| Lamp Life | Up to 3,000 hours |
| Lamp Part # | 610 342 2626 (2) |
| Fan Noise | As low as 31 dBa |
| Air Filter | Cartridge Filter up to 13,000 hours |
| Maximum Pitch | Up-to 360º |
| Weight | 34lb (15.4 kg) |
| Ceiling Mount Part # | 0173-4304 |