4-Port Cat 5 USB 2.0 Extender
Up to 4 USB devices can be connected to the Remote unit up to 100 meters from the computer.UEH4002 provides a durable, high quality connection that harnesses the full capability of the USB 2.0 standard, to ensure the reliable data communication. With UEH4002, the USB extension is no longer the bottleneck.
Package Contents
1x UEH4002L Cat 5 USB 2.0 Extender (Local unit)
1x UEH4002R Cat 5 USB 2.0 Extender (Remote unit)
1x AC Power Adapter
1x USB 2.0 Cable (6 ft)
1x User Instructions


•Extends the transmission distance of 4 USB devices up to 100 m
•USB 2.0 compliant
•Fully compliant with USB Electrical and Timing
•LED indicators display port focus
•Multiplatform support – Windows, Mac
Function
UEH4002L
UEH4002R
Connectors
Upstream Port
1 x USB Type B Female (White)
1 x RJ-45 Female
Downstream Port
1 x RJ-45 Female
4 x USB Type A Female (White)
Power
1 x DC Jack
USB Specification
2.0 / 1.1 High / Full / Low Speed
USB Devices Supported
N/A
4 USB Devices
Maximum USB devices supported
N/A
14 USB devices or 3 USB hubs with 11 USB devices
Power Consumption
DC 5V, 2.5W
Environment
Operating Temp.
0–50°C
Storage Temp.
-20–70°C
Humidity
0–80% RH, Non-condensing
Physical
Properties
Housing
Plastic
Weight
0.90 kg
0.90 kg
Dimensions
(L x W x H)
10.00x7.60x2.60cm
10.00x7.60x2.60cm
* The specification and pictures are subject to change without notice.
* All trademarks and logos are the properties of their respective holders.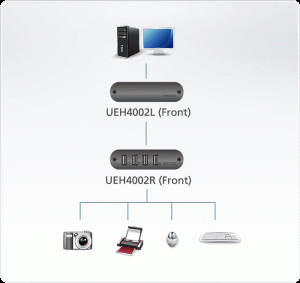 ---
User Manual
---
Quick Start Guide