HDMI Extender
The VE800A HDMI Extender extends your HDMI display up to 60 m away from your HDMI source using one Cat 5e cable. ATEN's VE800A incorporates new technology that allows the A/V signals to be transmitted over a single Cat 5e cable. DDC port is provided for the ability to use the display's EDID by simply connecting another Cat 5e cable. The VE800A supports HDMI features such as 3D and Deep Color to give you the picture perfect viewing experience you desire.
Package Contents
1x VE800AT HDMI Extender
1x VE800AR HDMI Extender
2x Power Adapters
1x Mounting Kit
1x User Instructions
Extends the distance between HDMI source and HDMI display
Uses Cat 5e cable to connect the local and remote units
Features ATEN EDID technology that allows transmission over one Cat 5e cable
Extend 1080p by 130 ft. (40 m); extend 1080i (HDTV) by 196 ft. (60 m)
Superior video quality – 1920 x 1200, up to 1080p
HDMI (3D, Deep Color); HDCP Compatible
Supports Dolby True HD and DTS HD Master Audio
8 segment equalization adjustment switch optimizes display quality
DDC compatible
Video Input
Interface
1 x HDMI Type A Female (Black)
Impedance
100 Ώ
Video Output
Interface
1 x HDMI Type A Female (Black)
Impedance
100 Ώ
Video
Max. Data Rate
6.75 Gbps (2.25 Gbps Per Lane)
Max. Pixel Clock
225 MHz
Compliance
HDMI (3D, Deep Color)HDCP Compatible
Max resolutions / Distance
Up to 1080p@40m; 1080i@60m
Audio
Input
1 x HDMI Type A Female (Black)
Output
1 x HDMI Type A Female (Black)
Power

Connector:

1 x DC Jack

Consumption:

VE800AT: 5 VDC, 1W;

VE800AR: 5 VDC, 0.75W

Environment
Operating Temp.
0-50°C
Storage Temp.
-20 - 60°C
Humidity
0-80% RH, Non-Condensing
PhysicalProperties
Housing
Metal
Weight
VE800AT 0.4 lb (0.16kg)VE800AR 0.4 lb (0.16kg)
Dimensions(L x W x H)
3.5 x 2.2 x 0.9 in(9.00 x 5.50 x 2.40 cm)
Carton Lot
5 pcs
* The specification and pictures are subject to change without notice.
* All trademarks and logos are the properties of their respective holders.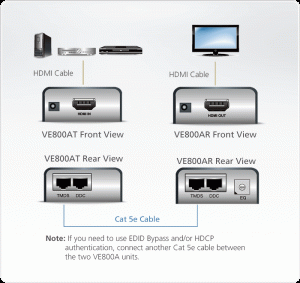 Datasheet
---
Quick Start Guide
---