Eiki Projection Technology Brings Clarity and Excitement to Charles W. Eisemann Center for Performing Arts
Clear, natural imagery compliments stage lighting
5/08/2017 6:47 PM
MountainCrest Communications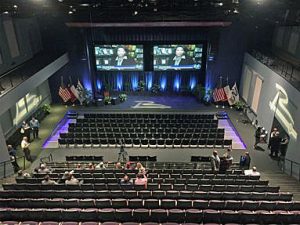 Richardson, TX – May 2017… Recognized as one of the leading performing arts facilities serving the Dallas/Fort Worth area, Charles W. Eisemann Center for Performing Arts is home to entertainment and cultural activities that include dance, musical theater, concerts, corporate meetings, cultural celebrations and city functions. With such a range of activities, the ability to clearly project everything from business presentations to theatrical backdrops is crucial to the success of many Eisemann Center events. To ensure the best image projection for its varied clientele, the Eisemann Center recently upgraded its projection capabilities with new equipment from California-based Eiki International, Inc.
As part of the Eisemann Center's technical production team, Cody Williams, Video/Media Technician for the City of Richardson, and Virgil Justice, Assistant Technical Manager, oversee equipment, event production and show and presentation logistics. Williams and Justice discussed the challenges they encounter, and their decision to deploy two Eiki EK-800U Widescreen Projectors.
"The Eisemann Center accommodates a wide range of activities, so we needed to find a projection system that could address everything from standard business meeting requirements to a variety of challenges commonly encountered in music and entertainment projects," Justice said. "For us, projection often competes with stage lighting. With its 12,000 lumens brightness and a 5000:1 contrast ratio, the output of the Ek-800U's have made it possible to use projection in more situations, including combining stage lighting elements with video elements."
"Being that the projectors routinely handle image and video backdrops, presentations and videos, we needed to move to at least an HD-based system," Williams added. "With the new 800U's, we have that capability and more, which has really helped us fill out the majority of the cyclorama's in our venues. The SDI and HDBaseT connections also make these projectors ideal because we rarely set up a source near the projector. Most of the time, we're operating from at least 100 feet away, if not more. Now, thanks to the capabilities of the EK-800U's, we've reduced our need for format converters considerably. We've been using our EK-800U projectors for roughly a year now, and they have served us well."
Quality customer and technical support services are crucial to the people tasked with setup and operation of equipment for the Eisemann Center's wide range of events. Williams and Justice have been very impressed with Eiki in this regard. "We've been very pleased with Eiki's support," Justice said. "They worked closely with us to provide the answers we needed when making some system adjustments to one of our projectors. This assistance was critically important because we were booked for a solid month, and we needed both projectors every weekend."
Reflecting on the past year with Eiki projectors, Williams said, "We've had great client feedback and, as a result, have increased our usage of the EK-800U video projectors. The variety of available lens options is very impressive, and they provide the maximum brightness for each within their focal range. Presently, we own two lenses for each unit and are contemplating buying a third intermediate lens to allow for a mid-length front projection shot. Designers are beginning to find more and more uses to rent our Eiki projectors. From our staff perspective, we still have some things we would like to try, such as double stacking the units for brightness and edge blending. Unfortunately, we haven't had much time to experiment because the projectors are in use so often that we simply don't get much 'down time' with them. Needless to say, this is the kind of 'problem' any technician would love to gripe about."
For more information about the Eisemann Center for Performing Arts, visit www.eisemanncenter.com or call 972-744-4600.
About EIKI
Founded in 1953 in Osaka, Japan, the company established its international network with film projection. The EIKI name literally means "projectors" in Japanese. Today, the company manufactures and markets a broad range of projection technology for education, religion, government and business communication, and offer it through a network of professional audio video dealers. https://www.eiki.com.
###
Photo info: Charles W. Eisemann Center for Performing Arts