Eiki International Return to Regular Business Hours
Starting Wednesday, June 10, 2020, Eiki International, Inc. will be returning to regular office hours (7:30 AM - 4:00 PM Pacific Time)
and regular shipping schedule.
25,000 hour LED Light Source Life

Bright, Sharp Image with ColorSpark
HLD LED Projection System

Flexible 360° installation
20,000 hour Laser Light Source Life

Superior Color Performance from Red&Blue Laser + Phosphor Light Engine

Flexible Installation
* up to 360o & Portrait Projection Mode
Sealed Optical Engine / Filterless Design
(IP6X, No ingress of dust)
* Lens Shift & Keystone Correction
* Geometric Correction & Blending Function
* 8 Optional Lenses including Ultra Short Throw Lens
20,000 hour Laser Light Source Life

High brightness and color reproduction from Laser + Phosphor Light Engine
Cost-effective, full featured Installation Laser Projector
Long Life, Low Maintenance:
10,000 hours Infinity Lamp life
20.000 hours in ECO mode

Full Featured, Entry Level Projectors
Versatile Portable Projectors:
· Horizontal, Vertical & Corner Keystone Correction
· Curved Correction (EK-121W only)
Suitable for hanging, wall-mounting, base-standing, bracket standing, and other creative installations.

Ideal for a wide range of digital signage applications
Use individually or as part of a multi-screen array.
Easily change and save content in seconds with iOS/Android app or from computer via Wi-Fi or USB.
Support for up-to 255 microphones including up-to 3x EMC02 Chairman Units
Chairman units can override Delegate microphones and approve/reject delegate requests to speak
Microphones have effective pickup range of 1.6ft
Integrated frequency shift, feedback suppression, intelligent balancing, and additional DSP capabilities
2.4G wireless with advanced frequency hopping and digital transmission technology
24-bit PCM high precision audio processing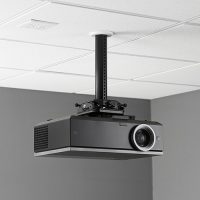 EIKI offers industry-leading projector ceiling mounts that minimize installation time, simplify maintenance and offer integrated security.
A full line of  accessories from ceiling plates and structural adapters to power accessories and extension columns is also available .
When you want quick, secure & professional projector installations, speak to your authorized EIKI dealer for projector mounting solutions.
We are committed to delivering high-quality projector mounts that are easy to install and maintain.