Eiki Working Remotely; Limited Shipping - March 27, 2020
Please note that Eiki is operating with most employees working remotely. We are currently processing and shipping orders – though some delays may occur. We thank you for your patience and will continue to provide updates.
Eiki International Service and Support Available via Email & Phone - March 23, 2020
Dear Eiki family and business partners,
As you may be aware, under the California State Government's directives, all companies in the state of California have been ordered to shutdown till further notice. While our office remains closed, we wish to inform you that we remain available via e-mail, and Tech Support by e-mail and phone should you require any assistance. For sales, please contact your Eiki Regional Sales rep or Eiki dealer.
Please continue to take care and thank you for all your continuing support.
With Warm Regards
John Schippers
Chief Operating Officer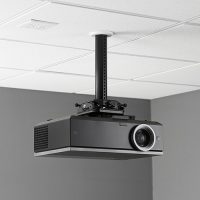 EIKI offers industry-leading projector ceiling mounts that minimize installation time, simplify maintenance and offer integrated security.
A full line of  accessories from ceiling plates and structural adapters to power accessories and extension columns is also available .
When you want quick, secure & professional projector installations, speak to your authorized EIKI dealer for projector mounting solutions.
We are committed to delivering high-quality projector mounts that are easy to install and maintain.