100,000:1 contrast ratio makes images 'pop'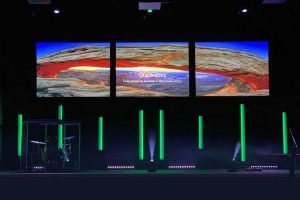 Charleston, SC – January 2020... As a group of people on a faith journey, aligning themselves with Christ and His Word to make a difference for God's glory, Crosstowne Church enables people to become learners, lovers, and leaders in their relationship with Jesus Christ and in the world around them. The nondenominational church recently upgraded its projection setup. This resulted in the deployment of EK-815U WUXGA (1920x1200) laser projectors, which were drawn from the catalog of Eiki International, Inc. of Rancho Santa Margarita, CA.
Southern Media Systems, Inc. of Charleston, an AV design / build firm and equipment dealer servicing the worship, government, and commercial markets, was contracted to handle the facility upgrade. David Major, the company's owner, oversees Southern Media Systems' sales, marketing, and installation operations. After consulting with church management to learn their goals and expectations, he penned a design that called for three EK-815U projectors outfitted with AH-A21010 lenses. He discussed the project and his reasons for selecting Eiki projection technology.
"Crosstowne Church has a very contemporary style of worship service," Major reports. "and the ability to present a wide variety of content is an important element in today's worship market. As a result, projection is a highly effective tool for helping convey ideas, putting up lyrics for singing, and presenting colorful imagery—all of which goes a long way creating an atmosphere of worship. The church previously had three Eiki LCD projectors, which had been very effective but were showing their age. These projectors were outputting their content in 4:3 aspect ratio and church management didn't want to replace their screens or change their wiring and settings, so we needed equipment that could output 4:3 aspect ratio. The EK-815U's ability to meet this requirement was a crucial concern for the church, as it enabled them to better contain costs on the project."
The three new Eiki EK-815U projectors are projecting from the front onto the screens, which are positioned three units wide across the stage area. By utilizing Eiki's AH-A21010 lenses, the church team was able to install the projectors in the same location as the units they were replacing, thus saving time and money.
When queried about those attributes that made the Eiki EK-815U projectors the ideal choice for this project, Major offered the following thoughts. "The EK-815U has a very clear and crisp picture, with no ghosting or shadows," he explained. "And with their 100,000:1 contrast ratio, the images rally 'pop.' Combine these features with a wide range of inputs that enables them to take content from a variety of sources, a 20,000 hour laser life for reduced maintenance, and the fact that they have very low noise—so as not to be distracting—and you have a very versatile and cost-effective projector."
On many AV projects, questions arise, so the ability for the integrator to get capable and responsive customer and technical support can be vital to keeping a project on track. In this regard, Major was equally complimentary of his experience with Eiki International, Inc. "I've been with Eiki for a good 25 years and I know they are always available for consulting prior to specifying equipment for a project. The fact that I can ask questions up front makes me that much more certain that I have specified the 'right tool for the job.' The support staff is easy to get hold of and they always show a genuine concern for what you're trying to accomplish."
The first Crosstowne Church services with the new Eiki projectors took place in early April and Major is pleased to report that his customer is very happy with their new equipment. "As soon as the projectors were up and running, I got a call and email from Pastor Paul Rienzo," Major said. "He was excited with the decision to get these units because the images are bright, vibrant, and they really make a strong visual impact—all of which goes a long way to making services that much more meaningful for everyone in attendance."
To learn more about the services of Southern Media Systems, Inc., contact the company by calling 843-412-6546 or email them at DRMAJOR.SMS@GMAIL.COM.