The Logo function for the projector allows you to choose the screen logo that is projected during start-up.
Note:
It is recommended that you refer to the owner's manual that came with the projector for information and instructions related to your specific projector model.
Owner's manuals for EIKI projectors can be downloaded from the Eiki.com website by going to https://www.eiki.com/owners-manuals/ and searching for your projector model.
Projector Menu
Enter the projector menu and navigate to the start-up logo option described by the owners manual for your projector.
Example:
Press MENU button on the remote control to display screen menu.
Press button to "Expand" the menu, then press the OK button.
Press  button to select the item you want to set, press the OK button.
Press  button to adjust the item, then press the OK button.
Logo select 
This function decides on the start-up display from following options.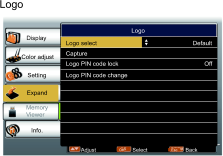 Default .... Show the factory-set logo.
User..........Show the image captured by user.
Off ........... Show the countdown display only.
Capture
You can capture a projected image as start logo .
Select "Capture" and press the OK button.
Confirmation dialog box appears, select "Yes" to start capturing.