Company donates three EK-601W DLP® Conference Series projectors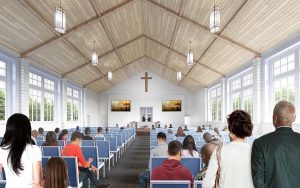 Rancho Santa Margarita, CA – InfoComm booth #1461... Eiki International, Inc. a world leader for over 40 years in projection technology, is pleased to announce its participation in the Restore Sutherland Springs initiative. Organized by the North American Mission Board (NAMB), a Southern Baptist entity located near Atlanta, GA, NAMB is spearheading the effort to rebuild First Baptist Church Sutherland Springs after the horrific mass shooting that occurred there on November 5, 2017 in Sutherland Springs, Texas.
Central to the Restore Sutherland Springs initiative, the plan is to develop a new worship center, a new education building, and a new activity center. Groundbreaking for Phase 1 of the project launched in May 2018 with the goal of completion for Spring 2019. Phase 1 includes a new worship center and education building.
The list of project partners involved in the Restore Sutherland Springs initiative is impressive. Central to the project are companies including Myrick Gurosky & Associates, an architectural design firm, G&S Acoustics, a worldwide manufacturer of acoustical, tackable and sound diffusing wall and ceiling products, James Hardie Building Products, Inc., and many more.
After learning about the Restore Sutherland Springs project, Eiki International saw this as an opportunity to 'give back' in a meaningful way. The three EK-601W DLP® Conference Series projectors offer 5,500 ANSI lumens brightness with 80% uniformity and a 10,000:1 contrast ratio along with Horizontal, Vertical, and Corner Keystone Correction for superior image control. These attributes make them well-suited for use in a variety of environments, including classroom / meeting spaces and other areas where clean, clear imagery is required.
Steve Rubery, Eiki's General Manager, commented on the company's involvement with the Restore Sutherland Springs initiative, "The mass shooting at First Baptist Church Sutherland Springs was tragic—for both the people in Texas as well as Americans in general. Upon discovering the activities being spearheaded by the North American Mission Board, we saw this as an opportunity to contribute in a meaningful way. As a company actively involved in the worship market, the events of that day had a profound impact on all of us. We view the Restore Sutherland Springs effort as an opportunity to help those involved."