Eiki Projectors Bring Outstanding Visual Presence
to First Baptist Church Westlake Services
LC-WXN200 projectors deliver vibrant imagery despite challenging conditions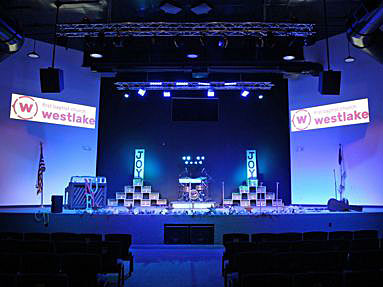 Westlake, LA – March 2017… When designing their brand-new worship center, officials at First Baptist Church Westlake wanted to ensure their sanctuary had vivid presentation capabilities in order to fully engage the congregation during services. Considering the size of the space and the number of worshippers in attendance each week, this proved to be no small challenge. After careful evaluation, the decision was made to deploy two LC-WXN200 projectors from Rancho Santa Margarita, Ca-based Eiki International, Inc.
Creative Sound and Lighting Solutions, LLC, of Cape Coral, Florida, an AV design/build firm that handles audio, video, lighting, and acoustics for the commercial and church markets, was contracted to design and implement the new projection setup at First Baptist Church Westlake. Rob Robinson, general manager and co-owner of the firm, managed the project. He discussed the installation and his reasons for selecting the Eiki projectors.
"Services at First Baptist Church Westlake are on the contemporary side," Robinson reports. "There's a good-sized praise band and a choir for music and everyone was eager to have the visual aspects of their services equally vibrant. With seating capacity for roughly 600 people, this is no small space. As a result, we had to be certain that, whatever projection system we installed, imagery would be bright, colorful, and pleasing to the eye. This is a really nice room, so we didn't want to clutter the area with multiple screens and detract from the aesthetics of the area. All these considerations led us to deploy the two Eiki LC-WXN200 projectors and project directly onto the two side walls of the stage area."
The Eiki LC-WXN200 is a 3 LCD projector with 6,000 ANSI Lumens brightness and native WXGA resolution. The system supports analog and digital video input in all color standards up-to 1080p and incorporates 10-bit color processing for superior color reproduction. Robinson and his team mounted the projectors over the front edge of the lighting truss about a quarter-inch from actually touching the truss.  The two projectors are centrally positioned over the stage area about eight inches apart from one another. They are aimed away from this point at roughly 45 degrees toward the side walls, which are angled out toward the audience from the rear wall—thus creating a 'fan-shaped' area on the stage.
Robinson commented on the projectors' overall setup, "The main source of the broadcast is ProPresenter, a popular church presentation software package created to make high-quality worship experiences for churches of any size. They also have the option of running Blu-ray Disc as another source. Since there are no actual screens, the projectors are simply broadcasting onto the giant walls on each side of the stage. This setup was so much more difficult to do because with actual screens, the border is already set for you. In this case, we had to mock up two imaginary screens on both sides and account for the life safety devices already present. It was quite a challenge."
When queried about those key attributes that made the two Eiki LC-WXN200 projectors so well-suited for this project, Robinson offered the following thoughts. "First, 6000 LCD lumens was absolutely necessary in order to be able to have enough 'horsepower' to project onto our screen size—in this case, the walls," he said. "Secondly, the projectors' corner correction capability, which was also very necessary, is top-of-the-line on these projectors. Also, this model projector is already equipped with built in edge blending. The Eiki LC-WXN200 may very well be the most bang for your buck projector out there."
Being that this project was new construction, Robinson and his crew were involved right from the start. As the project evolved, questions inevitably arose. In this regard, Robinson was very appreciative of Eiki's customer and technical support services. The entire Eiki team was really great to deal with," Robinson reports. "Steve Rubery consistently goes the extra mile to ensure the projectors deliver as expected. We really appreciate his input."
With the new projection equipment in place, First Baptist Church Westlake's services in their new sanctuary commenced in mid-October 2016. Since that time, Robinson reports he has received numerous compliments. "With the new sanctuary, the church upgraded their square footage considerably," he said, "and this required extremely capable projection equipment in order for both lyrics and images to be clear and vibrant from the congregation's perspective—especially since they are projecting onto the side walls. We've received loads of compliments. The images are bright, lyrics are clear and easy to read, and the overall effect is inspiring. My hope is that Eiki continues making these projectors for a while. They're winners!"
For additional information about Creative Sound and Lighting Solutions, LLC, go to www.creativesoundsolution.com.
About EIKI
Founded in 1953 in Osaka, Japan, the company established its international network with film projection. The EIKI name literally means "projectors" in Japanese. Today, the company manufactures and markets a broad range of projection technology for education, religion, government and business communication, and offer it through a network of professional audio video dealers. https://www.eiki.com.
###