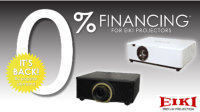 Marlin Business Services Corp.
Providing commercial financing to small and mid-size businesses nationwide.
Marlin Equipment Finance has extended the EXCLUSIVE 0% financing option for EIKI Rental & Stagers to acquire EIKI Projectors and Accessories to March 31, 2019.
Visit EIKI's financial website page for financial quotes, contact and application information.