EIP-UHS100 HD Widescreen DLP® Projector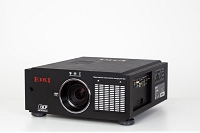 Key Features
8,000 ANSI lumens bright with 80% uniformity and a 2400:1 contrast ratio.
HDMI and 3G HD-SDI Digital connectivity.
Native WUXGA resolution. Compatible with inputs up-to UXGA and WUXGA.
Supports analog and digital video input in all color standards up-to 1080p.
User-changeable color wheel to optimize brightness or color.
Displays both 4:3 and 16:9 aspect ratios. Supports most HDTV resolutions.
Wired network monitoring and control.
Rear-accessed lamp for ease of maintenance.
Optional lens cover a range of 0.75 to 8.56:1 Throw ratios.
Built-in Edge Blending and Image Warping.
Lens Memory Features allow up to 10 saved settings.
Built-in Picture in Picture and Picture by Picture.
Security bar. Kensington® MicroSaver® security slot. PIN lock.
3 years / 6000 hours projector warranty (whichever occurs first).
Included Accessories: Quick Start Guide, Owner's Manual on CD-ROM, VGA Computer Input Cable (Dsub15 to Dsub15), 6.0 ft (1.8 m) Detachable Power Cord, Remote Control (with 2 AA Batteries), Wired Remote Cable (MiniStereo to MiniStereo), Screw for Lens Lock, Color Wheel. Optional Accessories: Replacement Lamp, Component Video Input Cable (Dsub15 to 3RCA), ATA-Style Case with Wheels and Telescoping Handle, Ceiling Mount, Ceiling Post and Plate.
Specifications Overview
(Right click a link and choose "Save ..." to download a file)
()
()
| | |
| --- | --- |
| Display Technology | 1 chip DLP® |
| Brightness (ANSI) | 8,000 lumens |
| Native Resolution | WUXGA (1920 x 1200), 16:10 |
| Max. Computer Input | WUXGA |
| Max. Video Input | 1080p |
| Contrast Ratio | 2400:1 |
| Panel Size | 0.67" DMD™ DLP® chip |
| Lens Type (Throw:Width) | 1.73-2.27:1 |
| Power Lens Shift | -- |
| Vertical Keystone Correction Horizontal Keystone Correction | Digital: Up-to 20º up or down; Digital: Up-to 35º left or right |
| Inputs | Dsub15 x 1; DVI-D (w/ HDCP) x 1; HDMI® x 1; BNC x 5;  BNC x 1; DC12V x 1 |
| Outputs | 3G HD-SDI |
| Sound System | - |
| Network Control | Wired LAN monitor & control |
| Warranty | 3 year/6000 hrs. (whichever comes first) projector warranty. |
| Lamp Life | up-to 2,500 hours |
| Lamp Part # | -- |
| Fan Noise (Normal / Eco) | 43 / 39 dBa |
| Air Filter | Cartridge Filter (35,000 hours) |
| Maximum Pitch | up-to 15° Up or Down |
| Weight | 52.9 lb (24 kg) |
| Ceiling Mount Part # | -- |