Outstanding Features:
Low cost / High Brightness = affordable & low cost per lumen. Compact and lightweight: easy to carry or install. UXGA & WXGA compatible. Interlace to Progressive conversion. Turn ON and Show! (Countdown can be optionally skipped). Turn Off and Go! (AC power cord can be removed immediately after OFF).
Key Features
Weighs only 6.8 lbs (3.1 kg)! Footprint slightly larger than a sheet of paper!
3000 ANSI Lumens, 85% uniformity, and 450:1 contrast ratio.
3 panel LCD imaging delivers a rich, color saturated picture.
True XGA resolution. WXGA and UXGA~VGA, and MAC compatible.
Quiet operation: fan noise as low as 29 dBA.
Smart data compression / expansion, and video scaling.
Convenient mid-range (1.2:1) manual zoom and focus lens.
Preset image offset. Vertical digital keystone correction.
Accepts Composite, Component and S-Video in all major standards.
Displays both 4:3 and 16:9 formats. Supports most HDTV resolutions.
Converts Interlace to Progressive scan. 3-2 / 2-2 Pulldown support.
Variable Power Management option. Optional local or remote keylock.
VGA-type computer input. Auto input search.
Custom warm-up screen option. Green chalkboard projection mode.
Wireless remote control. 16X digital zoom. Turn OFF and GO!
3 Year* Projector Warranty!
Included Accessories: Owner's Manual on CD-ROM. Quick Start Guide. AC Power Cord. Lens Cover. VGA type Computer Input Cable (HD15 ~ HD15). Wireless Remote Control & Batteries (AA x 2).
Optional Accessories: Soft Carry Bag. Replacement Lamp. Component Video Input Cable (HD15~3-RCA). DB9~Mini Din-8 cable for RS-232 control. Luggage-Style ("wheelie") Carrying Case with Wheels, Telescoping Handle, and Detachable Computer Compartment. Ceiling Mount. Ceiling Post and Plate. 33' (10m) Extension Cable for Serial Cable. EZ-250 Local Control. NPC-1 Network Control.
Specifications Overview
| | |
| --- | --- |
| Display Technology | PolySilicon active matrix TFT Panels x 3 |
| Brightness (ANSI) | 3000 ANSI Lumens |
| Native Resolution | 1024x768 (XGA) |
| Max. Computer Input | UXGA |
| Max. Video Input | 1080i |
| Contrast Ratio | 450:1 |
| Panel Size | 0.63" |
| Lens Type (Throw:Width) | 4.6 ~ 41.3 ft (1.4 ~ 12.6 m) |
| Anti Keystone | Preset Image Offset, Ratio (Top:Bottom) 9:1 |
| Keystone Correction | Digital: up to 20° up or down |
| Inputs | HD15 x1 (Component In with Additional Adapter); MiniStereo x 1 (Audio In - Computer 1 & 2 - Stereo);  RCA x 1 (yellow) (Video In - Composite); RCA x 2 (L & R or red & white) - (Audio In - Video [Composite/S-Video]); 4 pin DIN (S-Video Input (Y/C) ) x 1; 8 pin DIN x 1 (Service Port for RS-232 control) |
| Outputs | DSub 15 x 1 #2 (Monitor Out);  MiniStereo x 1 (Audio Line Out - variable) |
| Sound System | 1 Watt; speaker: 1.1 in. (2.8 cm.) x 1 |
| Network Control | Full Function |
| Warranty | 3 years |
| Lamp Life | up to 1,500 Standard |
| Lamp Part # | 610 334 9565 |
| Fan Noise | as low as 29 dBA |
| Air Filter | Standard |
| Maximum Pitch | up to 10° up or down |
| Weight | 5.3 lbs |
| Ceiling Mount Part # | 0173-4312 |
Infrared only (NO Mouse Function) x-ref: CXVP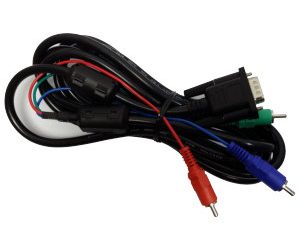 Component Video (3 RCA) to HD-15 (Input Cable Adaptor - 12" length)
Rated Power: 220W
Lamp type: UHP
Life Expectancy: 3000h
Lamp Warranty: 90 days (Pro-Rata)